Budapest Gala Concert
Duna Palota, Budapest.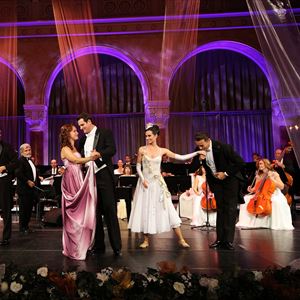 Please arrive 30 minutes before the show starts at the cash desk of the Danube Palace, 5 Zrinyi utca, Budapest, 1051, Hungary.
More information about Budapest Gala Concert tickets
With a repertoire covering musical styles such as operetta, gipsy music and Hungarian-related classical music, the Danube Symphony Orchestra leads the grandiose concert, in cooperation with professional ballet dancers serving as confirmation to the fact that music and dance is inseparable. The program includes operetta songs performed by soloists of the world-famous Budapest Operetta Theatre. In addition to all, there are some unique elements in the program; traditional Hungarian folk instrument, the cimbalom and Hungarian folk songs adaptation performed by authentic gypsy band.
The 90 minutes long concerts (consisting of two 40-45 minute long parts with an intermission in between) take place in one of Budapest's most prestigious theaters; the Danube Palace in a central downtown location.
TIP!
You can book your ticket with Dinner & Cruise after cruise including a 1.5 hour long cruise and buffet dinner OR a unique Wine tasting with the best 7 Hungarian wine to taste from.