Cardinal Black
The Flowerpot, Derby.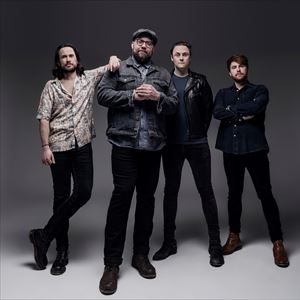 This event is for 18 and over - No refunds will be issued for under 18s.
More information about Cardinal Black tickets
Alt-rock band Cardinal Black epitomise the long way round. Rewind to 2010 and the Welsh-born trio of Tom Hollister (vocals), Chris Buck (guitar) and Adam Roberts (drums) were riding a wave of hype, having received a speight of stellar endorsements from some of the biggest names in rock, most notably from the iconic Steve Winwood who had invited the band to initially record at his storied Wincraft Studios.
A triumphant live set at Sonisphere in 2010 followed a phone call from the manager of Guns N' Roses, Alan Niven who, offering his services as manager, flew the band to Arizona to begin an attempt at breaking into the notorious Nashville scene. The lure of America proved irresistible for the young trio and they made the move to Arizona to begin work on a debut album under the guidance of one of rock music's most successful managers. As invariably seems to be the case, reality rarely mirrors expectation and the band struggled to adapt during their time in the U.S; a new country, a new industry, homesickness and the classic creative differences led to the deterioration of the band's momentum, culminating in singer Tom Hollister unexpectedly calling time on the band and coming back to the UK.
Over the last decade, the band have travelled their individual roads whilst remaining friends. Most notably has been the rise to fame of guitarist Chris Buck, who was named 'Best New Guitarist in the World' in 2019 and has gone on to forge a successful career as one of the most inventive and recognizable guitar players in the world.
Drummer Adam Roberts found work as a session player and performer whilst vocalist Tom Hollister also moved into session work and tour management but the three maintained their musical connection and would sporadically meet up to perform and play together. Perhaps it was just a matter of time, but the roots of desire for new music and the feeling of unfinished business led to the trio beginning the writing and recording of new material in 2020 under the name Cardinal Black, bolstered by the addition of bassist Sam Williams.
After announcing themselves with debut single Tell Me How It Feels in May of 2021, it was less than 24 hours before the track had toppled Noel Gallagher from the #1 spot in the iTunes Rock Singles Chart. 2 months later, it was to be less than 12 hours when their debut 4 track E.P. took the #1 spot on both the iTunes rock album chart and Amazon Rock Best Sellers Chart, claiming #8 in the overall iTunes album chart. They may have taken the scenic route but Cardinal Black are here, and they've got plenty of stories to tell…