Interior design masterclass - Blanket styling
Secret Warehouse, Manchester.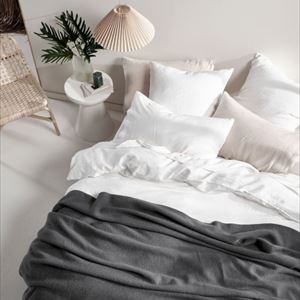 More information about Interior design masterclass - Blanket styling tickets
Come along and enjoy a session with our interior styling expert Anthea Valavanis as she takes you through all the properties of different blankets available on the market.
Anthea will cover all your questions on Blankets including:
What is best for you Cotton Blankets or Wool Blankets?
How to wash woollen blankets,
How to wash cotton blankets,
When can babies sleep with pillows and blankets
Plus an overview of Australia's best blanket brands:
Alastairs
Bambury
Jaspa Black
Linen House
MM linen
For a full overview of blanket styling tips to be covered go to https://www.manchesterwarehouse.com.au/bed/blankets
We took Anthea aside for five minutes to answer some of your questions. Make sure to book for our design masterclass to hear more on these topics.
Cotton blankets, how do you wash and care for those?
It's super easy, so just your normal washing machine cycle. As with anything try and avoid using the dryer to dry the entire product. So where possible try and get it out on a clothes line even if it's not in the sun but in the shade, and get it out and get most of the moisture off before you finish it off in the dryer to prolong the life of the product.
When can babies sleep with pillows and blankets?
Blankets can be in the cot from the beginning, but you have to follow the SIDS guidelines on where you place your baby in the cot. These say to place them at the base so that they can't wriggle down and go under the blanket that you've tucked in. https://rednose.org.au/downloads/Safe_Sleeping_Long_Brochure.pdf
Do wool blankets make nice gifts?
An old school person might gift a woollen blanket, but you're getting up there in price-point as a gift. And not everyone uses a woollen blanket these days. If it's within the family, like it's your mum, it might make a good present. But if it's just someone wanting to buy an engagement present or a wedding present, we tend to think more robes and sheets than blankets.