Interstellar: Moon Landing 50th Anniversary
Motorpoint Arena, Nottingham.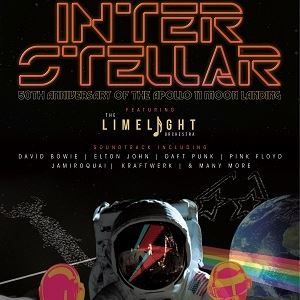 If you have a Wowcher code, please enter this in the box above.
Please enter any other code in the box below.
Under 14s must be accompanied by an adult. We cannot issue refunds to under 14s who are not accompanied by an adult.
Some or all of the items for this event require you to enter a promotional code.
Please enter your details below to buy tickets.
More information about Interstellar: Moon Landing 50th Anniversary tickets
For accessible seating, please contact the venue on 0808 164 4616 (freephone).

A new bag policy is in place. It's part of the enhanced security measures for all major events and means you can only take handbags and other small bags (no larger than 35cm x 40cm x 19cm) into the arena with you.
Please note that anyone with a larger bag than this will not be admitted into the venue.

You should arrive as early as possible and allow more time for security checks when arriving at the venue. These extra checks may increase the length of queues so please give yourself plenty of time to arrive and enter the venue.
A spectacular & unique show celebrating the 50th Anniversary of the 1969 Apollo 11 moon landing.

Secret Symphony's 50-Piece Limelight Orchestra perform all things space, stars and Interstellar.
A soundtrack that includes such 'stellar' tracks from Covers David Bowie, Coldplay, Beach House, Muse, Public Service Broadcasting, ELO, Pink Floyd, Emersson Lake & Palmer, Jamiroquai, Kraftwerk, Daft Punk, Elton John & Many More.

Performed among an immersive light and special fx show, NASA footage, and maybe, just maybe under a full Moon !