Limehouse Lizzy
Robin 2, Wolverhampton.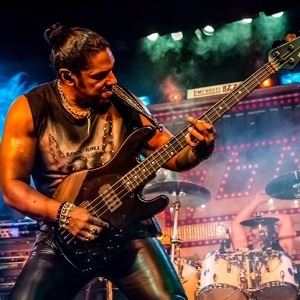 No under 14s in the standing area, 14 - 17s must be accompanied by an adult. No refunds will be given for incorrectly booked tickets.
More information about Limehouse Lizzy tickets
+ support Purple Stereo
Limehouse Lizzy continue to keep the spirit of Celtic rock icon Philip Lynott and his band Thin Lizzy alive, well and dominating stages worldwide. The band have also added a tribute into their show to ex-Thin Lizzy guitarist (and world renowned solo artist) Gary Moore.

From their Official PRS award, performing for Virgin Atlantic in Barbados, T.V. appearances (BBC 2's 'Arena' amongst others), and to actually being recruited to record and tour by members of the original Thin Lizzy, Limehouse Lizzy enter their 25th year with their most explosive show and critically-acclaimed line-up yet.

Despite international tours (UAE, Germany and previously USA, Scandinavia, Caribbean etc.), corporate clients (Mitsubishi, NatWest) and even book appearances (The Rocker, Send In The Clones), they've shoehorned a co-headline tour with tribute giants Livewire into 2018, along with their own stand-alone tour, in what will be an exhausting year-long schedule. The boys are back!
QUOTES

'...Limehouse Lizzy Top PRS for Music's Hardest Working UK Bands List' - Billboard Magazine
"Limehouse Lizzy's Wayne Ellis, an uncanny ringer for Phil Lynott..." - The Guardian
"entertainment for more than a decade…fantastic live music" - Arena BBC2
"if you're sceptical about tribute acts, you won't be after seeing Limehouse Lizzy" - Radio Times
"Gig of the week" - The Mirror
www.limehouselizzy.com
www.twitter.com/limehouselizzy
www.facebook.com/limehouselizzy
PURPLE STEREO
Purple Stereo, West Midlands based Rock Band, made up of a mix of creative musicians each with different influences that blend together to create a mixture of hard hitting riffs and underlying indie melodies. Home is Shabbey Road Walsall, that has birthed the creations of self produced album "Come On In...The Waters Fine" and single "Dead Man's Soul".
Front man and songwriter Paul Fletcher started the band in 2014 with guitarists Alex Hogg and Jon Spiers along with bass player Matt Worsfold. 2018 saw the introduction of drummer Jack Bayliss which created a whole new sound for the band and a renewed enthusiasm towards writing which has lead to a whole host of new material waiting to be released.
New single "I Said No" which is due to be released in Autumn will be the first release as the new lineup. Recent performances include supporting the Sex Pissed Dolls at the Robin 2 in Bilston and the 2018 Warton Music Festival. Influences come from Black Sabbath, My Vitriol, Stone Temple Pilots and Pink Floyd.
Best described as a hard rock sandwich with a blues dressing and a side of psychedelic chips.