Mark Knopfler
Manchester Arena, Manchester.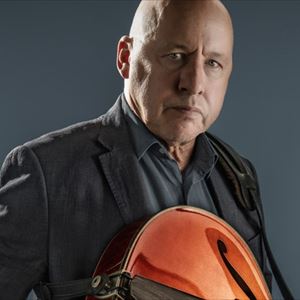 The lead booker/original purchaser MUST be in attendance at the show - no admittance for resold or gifted tickets. Customers MUST bring matching photo ID along with their ticket to gain entry to this show.
Under 14s must be accompanied by an adult. We cannot issue refunds to under 14s who are not accompanied by an adult.
More information about Mark Knopfler tickets
Mark Knopfler, one of the most critically and commercially successful artists of all time, has announced a world tour with his band in 2019.

The 'Down The Road Wherever' tour commences in Barcelona in April, then comes to the Uk and Ireland with seven dates in May - which includes the London 02 Arena on May 28th . The tour will continue all over Europe finishing in Verona in July before heading to the US through August and September.

Knopfler, who will release his ninth solo studio album 'Down The Road Wherever' on 16th November, has always viewed touring as an integral part of the process of releasing an album, going from songwriting through recording and ending up on the road performing old and new songs.

Says Mark: "My songs are made to be performed live. I love the whole process of writing them alone and then recording them with the band, but ultimately the best part is playing them to an audience live. I enjoy the whole circus, travelling from town to town and interacting with this group of players is a total pleasure. I'm really looking forward to it."

Knopfler, who recorded 'Down The Road Wherever' in his west London studio, British Grove, will be performing on tour with an expanded ten-piece band most of whom have been working with him for more than two decades: Guy Fletcher (keyboards), Richard Bennett (guitar), Jim Cox (piano), Mike McGoldrick (whistle and flute), John McCusker (fiddle and cittern), Glenn Worf (bass), Danny Cummings (percussion) and Ian Thomas (drums). New additions will be Graeme Blebins (saxaphone) and Tom Walsh (trumpet)

'Down The Road Wherever' features 14 unhurriedly elegant new Knopfler songs inspired by a wide range of subjects, including his early days in Deptford with Dire Straits, a stray football fan lost in a strange town, the compulsion of a musician hitching home through the snow, and a man out of time in his local greasy spoon cafe. Mark has a poet's eye for telling details that infuse his songs with his unique psychogeography - 'where the Delta meets the Tyne' as he describes it - and his warm Geordie vocal tone and his deft, richly melodic guitar playing are as breathtaking and thrilling as ever. The tour will see Mark and the band play a selection of new songs, mixed in with some well-known nuggets from his extraordinary back catalogue and one or two surprises from the far flung corners of his repertoire.

Hailed as one of the greatest guitarists of all time, Mark Knopfler has sold in excess of 120 million albums across his Dire Straits and solo career, and many of his songs have become standards, including 'Money For Nothing', 'Sultans Of Swing', 'Romeo & Juliet' and 'Walk Of Life'. He has released eight solo albums as well as recording 'Neck And Neck' with guitar great Chet Atkins, and collaborated with Emmylou Harris on 'All The Roadrunning'. He has created several film soundtracks, including 'Local Hero', 'The Princess Bride' and 'Altamira'. In addition to producing his own records Knopfler has also produced albums for Bob Dylan and Randy Newman amongst others. Knopfler was made an OBE in 1999 and was given the prestigious Lifetime Achievement Award at the Ivor Novellos in 2012.

Under 14 must be accompanied and no under 14s go on the floor for standing floor shows.

Children shows allow babes in arms up to 23 months however some shows specifically targeted at younger audiences require a ticket for anyone attending the performance. Please check the relevant show's event page for further details.

Further enhanced security checks have been put in place at Manchester Arena to provide reassurance and confidence and we advise you to arrive in plenty of time to pass through these additional security checks.

We also ask that you keep personal belongings to a minimum and only bring your essentials with you. Please do not bring any backpacks or large bags as these will not be permitted into the arena. You are permitted to bring small bags or handbags no larger than 35cm x 40cm x 19cm (approx. an A3 piece of paper).

There are no storage facilities for large items within the venue and it will be left to the patron to find a safe temporary facility to hold them. The venue will not be responsible for late admission or non-admission as a result of this policy.

If you are collecting tickets on the day a temporary box office has been set up on the Trinity Way corridor next to the Arena car park entrance. This temporary box office will be open from 4.00pm only on a show day and will close approximately 15 minutes after the main act goes on stage.

Please check Manchester Arena's website (manchester-arena.com) and follow them on social media (@manchesterarena) for specific show information before your visit.