Megson
Brewery Arts Centre, Kendal.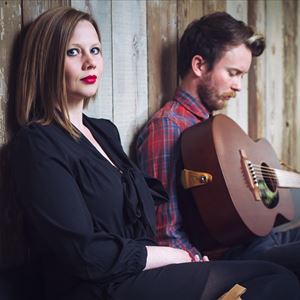 Malt Room - Fully Seated - Stalls
Under 16s must be accompanied by an adult. We cannot issue refunds to under 16s who are not accompanied by an adult.
More information about Megson tickets
The most original duo on the British folk scene.'
Robin Denslow – The Guardian
'A force in the folk revival'
Neil Spencer – The Observer
'Simply Brilliant'
The Sunday Express
Three times nominated in the BBC Radio 2 Folk Awards and double winners of the
Spiral Earth Awards Megson draw heavily on their Teesside heritage to create a truly
unique brand of folk music.
The husband & wife duo bring an infectious mix of heavenly vocals, lush harmonies
and driving rhythmic guitars. Comprising Debs Hanna (Vocals, Whistle, Piano
Accordion) and Stu Hanna (Guitar, Mandola, Banjo) Megson have gained fame on
the British folk scene, not only for their arresting & intelligent songwriting, but for
their exquisite musicianship and northern humour. As fRoots Magazine puts it 'if you
don't like the music here then you have a problem' .
Summer 2016 saw the release of their much anticipated new studio album
GOOD TIMES WILL COME AGAIN gaining them much critical acclaim. "One of the most
original political folk sets of the year. Ewan MacColl would have been impressed."
said The Guardian. "Relevant, thought-provoking songs that would make
Woody Guthrie proud" said Acoustic Magazine. While folk broadcasting legend
Mike Harding described it as "One of the top albums of 2016.".
"Their rich acoustic mix of miners, lovers, charlatans and whimsy is about as
traditional as folk gets, but never sounds old or dulled." said Q Magazine's Andy
Fyfe, while Colin Irwin wrote in MOJO "In A Box brackets Stu and Debbie Hanna
among the upper echelon of Brit folk songwriters." .
And during all this time, Stu even managed to be involved with other artists
producing award winning album for SHOW OF HANDS, LUCY WARD,
FAUSTUS, THE WILLOWS, & THE YOUNG'UNS.