Rachael Dadd
Hyde Park Book Club, Leeds.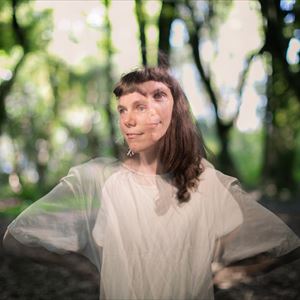 More information about Rachael Dadd tickets
"Rachael Dadd is one of the most talented wise prolific and important women of our times"
Kate Stables of This is the Kit
Living half her time as a traveling musician in Japan, witnessing how other people create things, connecting with other cultures and landscapes; all this is a furnace for innovative song writing. C ontemporary folk multi-instrumentalist Rachael Dadd is on a strong path with so much interest and support from DJs, tastemakers, her contemporaries and key people in the music industry. She has been gaining the reputation as a pioneering and thought provoking artist unafraid to push the boundaries of folk and pop.
Rachael Dadd is set to release her 6th album F lux on Memphis Industries on the 8th November2019.ProducedwithMarcusHamblett(Villagers/LauraMarling),Fluxisa response to external and internal tides: the flow of life up-rooted; a protest against the flow of recent political history; a diary of the flow within the intimate space of home. Collaborators include multi-instrumentalist E mma Gatrill (Willie Mason / Matthew and the Atlas), drummer R ob Pemberton (Emily Barker / Low Chimes), bassist Jim Barr (Portishead) and vocalists K ate Stables and Rozi Plain (This is The Kit).
Flux follows Rachael's highly acclaimed album W e Resonate which came out on French label Talitres and Sweetdreams Press (Japan), and a string of releases on B roken Sound (UK), Lost Map (UK), Sweetdreams Press and Angel's Egg (Japan). She has received wide support from DJs on B BC 6 Music, BBC Radio 1, BBC Radio 2, BBC Radio 3 Late Junction, BBC radio 4, Xfm, France Musique on which she was invited for a 6 song session.
In2016hersoloPianoandProjectionshowreceivedanEmergingExcellenceAward.She has toured this formation as well as full band and solo across venues and festivals in the UK, Europe, Australia and Asia. Her countless festival performances include E nd of the Road (Tipi stage), G reen Man (Cinema tent), G lastonbury, Truck, Farmest, Wilderness, Le FestivalLesFemmess'enMe?lent(France),MandreaFestival(Italy),Woodford (Australia), W omen in (E)Motion (Germany), and so many more. Headline tours include twice around the UK, once in Europe and most years in Japan since 2008. Rachael regularly
tours with long time friends and collaborators T his is the Kit and R ozi Plain, as well as David Thomas Broughton, Francois and the Atlas Mountains and Alessi`s Ark.
Rachael co-curated B ristols SHHH festival (a celebration of quiet & diverse music), instigated the group exhibition D IY is all you need with fellow musicians and artists, and curated and hosted R achael Dadd and Friends at Kings Place, London. In Japan she has written for some top names such as U A and Gontiti, and performed to an audience of 4000 at Tokyo's famous N HK Hall. With a First in fine art, Rachael puts great attention into the conceptual and visual through her music videos, album artwork, hand-made merchandise and exhibitions.