Sammy Rae & The Friends
Queen Margaret Union, Glasgow.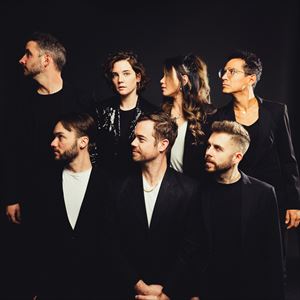 More information about Sammy Rae & The Friends tickets
For as much as Sammy Rae & The Friends may be a band, this collective of dreamers, and artists considers itself a family first.

Fronted by singer and songwriter Sammy Rae, the group flourishes in any spotlight with a combination of all-for-one and one-for-all camaraderie, palpable chemistry, deft virtuosity, and vocal fireworks. Their sound is a mélange of Sammy's influences, rooted in classic rock, folk, and funk and sprinkled with soul and jazz. Complete with a rhythm section, horn section, keyboards, and two backup singers, Sammy Rae & The Friends have or will deliver their high-energy, spirited, and unrestrained shows to sold-out audiences in the Northeast and beyond, including Terminal 5 in NYC, two consecutive nights at the Boston Royal, 9:30 Club in DC, Theatre of Living Arts in Philadelphia, The Showbox in Seattle, the Cannery Ballroom in Nashville, and many more. NPR Music, the Boston Globe and American Songwriter alike have dubbed her an artist to watch is 2022.

While the band considers themselves the "7 faces of The Friends," they advocate for the importance of their community. Avid music fans themselves, they pride themselves on this original grassroots, word-of-mouth growth. The Friends is their community of followers, artists and creatives who help in the creation of their songs and sustenance of the project—their mixing engineer, band photographer, graphic designer, budget manager, and everyone who hangs around the shows supporting the vision. The shows are like a shot in the arm of affirmation of individuality. They are safe spaces to feel overwhelmed with love and acceptance. "Friends" in the audience are encouraged to dress how they like, dance how they like, join the party and form person-to-person Friendships.

Sammy Rae & The Friends just wrapped a five-week tour celebrating her latest single, "Follow Me Like the Moon," and will be on the festival circuit this summer. Their next single, "Time Being", is released 15th July 2022.
A Standing show.