Shaun Gibbs, Stripped Back, Emily Faye & SFA
The Picturedrome, Northampton.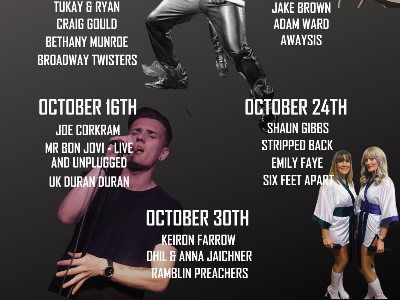 -Please don't forget facemasks, these must be worn when entering, leaving and for toilet breaks.
- Covid 19 rules means no dancing, please remain seated at all times.
More information about Shaun Gibbs, Stripped Back, Emily Faye & SFA tickets
Shaun Gibbs
An acoustic Singer/Songwriter with a few popular covers.
Stripped Back
Stripped Back combine pure vocals and clean beats, an acoustic duo stripping songs back to their bare bones. Beautiful vibes and dulcit tones uniquely mixed together.
Emily Faye
Emily Faye's music is a sweet concoction of both Nashville and the English Countryside, her inspiration stems from a love of Songwriting, and a desire to tell her story. Following being named by Rolling Stone Magazine as 'A New Country Artist You Need To Know' Emily Faye has since taken the UK Country music scene in her stride. Her Debut EP 'Here I Am' was released back in 2018, and ever since Faye has been releasing brand new music in a variety of styles experimenting with her sound along her forever changing journey. Her latest single 'Leaving Looks Good On You' is out now - wherever you find your music.
Six Feet Apart
Formed during lockdown, Six Feet Apart are a Musical trio from Northampton offering a range of what can only be described as 'absolute bangers'. Wes Emery - Vox/Guitar Joe Corkram - Vox/Guitars Tony Young - Vox/Keys
Doors 2:30pm