Southport Air Show
Southport Seafront, Southport.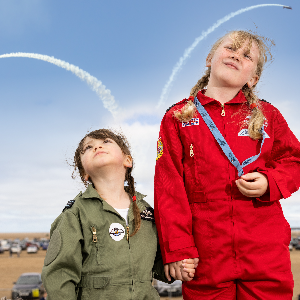 Head to Southport beach for the annual Air Show. A weekend packed with entertainment for the whole family.
Tickets are now priced at £10* for general admission, with under 16 years of age FREE.
Under 16s must be accompanied by an adult. We cannot issue refunds to under 16s who are not accompanied by an adult.
More information about Southport Air Show tickets
If you are looking for a fun and exhilarating day out with the kids, as well as the flying programme, there is plenty of things to do on the ground. From flight simulators, static aircraft to explore, climbing walls, assault courses and plenty more!

Tickets are now priced from £10 for general admission with under 16 years of age FREE.

The Southport Air Show - the number one family day out in the North West!

Whether you are young or old, you are guaranteed to fall in love with the aviation world and will see why hundreds of thousands of people love the Southport Air Show, many of whom come back year-after-year!

Make your air show unique to you!

Whether that's chatting to the Armed Forces about career opportunities in the Military Village. Testing your agility on the climbing walls and paintball range. Experiencing the next best thing to flying a jet in one of the exhilarating flight simulators.

Whatever you choose to do in between the flying displays, the experience is yours and you're guaranteed a fantastic day out!

Make a full day of it!

Bring a picnic and sit on the beach, or park on the beach if you arrive early enough. There are plenty of ground attractions that will keep the kids entertained all weekend.

A full afternoon of flying for an incredibly low price!

Thrilling and daring aerobatics, the breath-taking historical aircraft making graceful tributes to our past or fast and powerful jets and explosions on the beach - this is a weekend not to be missed!

*The ticket cost is the face value plus booking fee

The event management reserve the right to cancel this event due to adverse weather or any other instance that may compromise public safety.

Refunds will only be issued in accordance to our terms and conditions.