The Swing Commanders
Chorley Little Theatre, Chorley.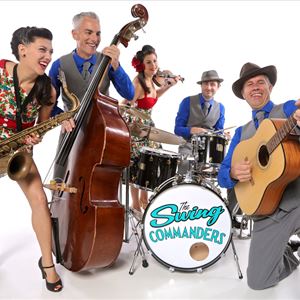 Seating allocated as orders come in. Wheelchair users please call 01257 264362
More information about The Swing Commanders tickets
This hugely talented, high-energy Lancashire band has wowed listeners and dancers alike through its unique presentation of some of the finest music from the 30s, 40s and 50s, with its array of six specialist musicians, five solo voices and as for instruments... well we will leave you to count for yourself! Here is an opportunity to see why sold out notices and standing ovations are regular features of performances by these international artistes, who have established a reputation as Europe's top Western Swing band in theatres, festivals and dance halls.
So, let them take you back in time for a special evening of Swing classics with a champagne sparkle. They really are the cats with the cream of Forties classics, so just sit back and sample the sweet Swing sensation that is - The Swing Commanders!